Camping Biarritz Camping
Biarritz
|
Pyrénées-Atlantiques
|
Aquitaine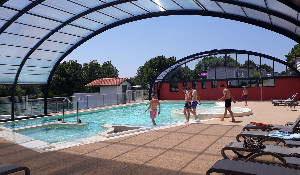 ---
---
Toeristische activiteiten Camping Biarritz Camping
Top tourist activities
Aquitaine
|
Soorts-Hossegor
|
Distance to campsite: 24.8 Km
Category: Lac Public: En famille
Aquitaine
|
Soustons
|
Distance to campsite: 30.8 Km
Category: Etang Public: En famille
The closest activities
 Plage du Port-Vieux
Aquitaine
|
Biarritz
|
Distance to campsite: 0.1 Km
Category: Plage Public: Tout public
 Plage de la côte des Basques
Aquitaine
|
Biarritz
|
Distance to campsite: 0.6 Km
Category: Plage Public: Tout public
 Grande Plage
Aquitaine
|
Biarritz
|
Distance to campsite: 0.6 Km
Category: Plage Public: Tout public
 Plage du Miramar
Aquitaine
|
Biarritz
|
Distance to campsite: 1.1 Km
Category: Plage Public: Tout public
 Plage Marbella
Aquitaine
|
Biarritz
|
Distance to campsite: 1.8 Km
Category: Plage Public: Tout public
5ème Biennale d'Anglet
Aquitaine
|
Anglet
|
Distance to campsite: 2 Km
Category: Contemporain Public: En couple
 Plage La Milady
Aquitaine
|
Biarritz
|
Distance to campsite: 2.1 Km
Category: Plage Public: Tout public
 Plage Chambre d'Amour
Aquitaine
|
Anglet
|
Distance to campsite: 2.2 Km
Category: Plage Public: Tout public
 Plage Ilbaritz
Aquitaine
|
Biarritz
|
Distance to campsite: 2.7 Km
Category: Plage Public: Tout public
 Plage Les Sables d'Or
Aquitaine
|
Anglet
|
Distance to campsite: 2.9 Km
Category: Plage Public: Tout public
---
Description
Camping Biarritz Camping
Biarritz
|
Pyrénées-Atlantiques
|
Aquitaine
Address of the campsite:
28 rue d'Harcet
---
You dream of beautiful beaches at the edge of the ocean ...
From a magical, festive and lively city ...
Enchanting landscapes with beautiful Basque colors,
Looking for a little piece of paradise ... synonymous with relaxation and conviviality ...
So do not wait any longer, go to Biarritz Camping!

Family campsite located in Biarritz in the Basque country, in an idyllic setting 700m from the beach, Biarritz Camping welcomes its guests on a beautiful unspoilt site, with an offer of accommodation and services in the countryside. Close to the city center and the famous Basque villages with incomparable charm, its well-kept facilities and friendly atmosphere promise colorful stays.

Classified 4 stars and a member of the Airotel chain, Biarritz Camping finds its strength in the quality of its accommodation (rental of mobile homes, canvas bungalows and camping pitches), its flowered green spaces, its aquatic area renovated, its spa, its hammam with its swimming pool covered and heated to 28 ° C in all seasons and modern sanitary, comfortable and scrupulously well maintained.

Want to do some sport? ▪ AQUAGYM free sessions every morning ▪ Waterpolo games on demand afternoons ▪ Swimming lessons (paid services) on demand ▪ Free YOGA sessions at the end of the afternoon ▪ Free fitness sessions in full air in the afternoons.

Finally, you will have access to a bar-restaurant and a small grocery store. Discover new services on our site.

From this campsite between sea and mountains, take advantage of the ideal situation to visit Biarritz. This city feet in the ocean will seduce you with its wide sandy beaches, museums and historical sites. After the beach, go shopping, trendy bars and art galleries. Neighboring Bayonne 7 km away, and Saint-Jean-de-Luz 14 km, the city welcomes lovers of board sports, and is very coveted for its thalassotherapy stays and golf competitions.

A campsite in the heart of the Basque Country

"Biarritz" seaside resort most popular of the Basque coast, "launched" by Empress Eugenie in the nineteenth century, stands out for its elegant architecture, and its essential: the lighthouse, the museum of the sea and the Rock of the Virgin from the top of which the view is breathtaking on the bay and its history, from whale hunters to "surfers".
Opening date : 01/04
Closing date : 29/09
Payment options: CB / Cheque / Virement / Chèque vacances
Number of pitches: 256
---
campsites nearest to Camping Biarritz Camping
Camping Le Ruisseau des Pyrénées
Bidart
- Aquitaine
Camping Le Berrua
Bidart
- Aquitaine
Camping Oyam
Bidart
- Aquitaine