Camping Cabanes des Châteaux
Valloire-sur-Cisse
|
Grand Center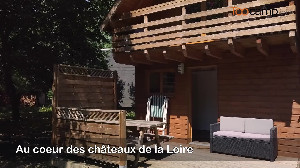 ---
---
Toeristische activiteiten Camping Cabanes des Châteaux
---
Description
Camping Cabanes des Châteaux
Address of the campsite:
5 Route de Villesavoir, 41150 Chouzy-sur-Cisse
---
The huts of the castle is an out of the ordinary establishment for an unusual holiday. In the forest, the area of the Rossignolerie, a few meters from the Loire you will find beautiful homes to spend a quiet stay in communion with nature in the heart of the region of famous castles.
Forget the traditional camping, here the owners offer to rent wooden houses in the middle of trees. Cabins and cottages with several ranges are available.
The cabins are divided into 2 categories. There are Pod cabins for 2 people with beds and electricity. The toilets are located a few meters in a cottage equipped with shower, toilet and a kitchen area. There are also family cabins that accommodate up to 4 people with private bathroom, air conditioning, radiators, refrigerator, kettle ...
The chalets are made for 2 guests. You will find a kitchenette, a mezzanine bedroom with balcony, a TV, a sauna, a bathroom, a terrace ...
Levels services you can order your breakfasts that are partly organic and homemade. There are also trays with local products for your arrival (to order upstream). You will only have your duvets and towels to predict.
The property is closed walls and closed whose key will be given to you, a safe stay awaits you or the children will be free and protected. Hammocks and badminton sets are available to enjoy the greenery outdoors.
Staying here you will be close to all the famous castles of the Loire, you will easily win: Chambord, Chenonceau, Cheverny, Chaumont, Blois, Amboise. You will be 7 km from the beautiful gardens of Chaumont-sur-Loire and 2 steps from the cycle paths of the valley. Playful pool, beach or balloon flight are to be done in the surroundings.
---
campsites nearest to Camping Cabanes des Châteaux
Camping Les Cedres
Chouzy-sur-Cisse
- Grand Center
Camping La Grande Tortue
Candé-sur-Beuvron
- Grand Center
Domaine de Seillac
Seillac
- Grand Center
Camping La Poterie
Mosnes
- Grand Center