Camping de Bouthezard
Le Puy-en-Velay
|
Haute Loire
|
Auvergne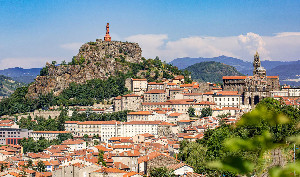 ---
---
Toeristische activiteiten Camping de Bouthezard
---
Description
Camping de Bouthezard
Le Puy-en-Velay
|
Haute Loire
|
Auvergne
Address of the campsite:
Avenue de Bonneville
---
In the Haute-Loire department, in Auvergne-Rhône-Alpes, the 3-star campsite of Bouthezard, located in Puy-en-Velay, a UNESCO World Heritage Site, on the Chemin de Saint-Jacques-de -Compostelle, waiting for you within a wooded area of 1.5 hectares, along the river La Borne.
In this campsite overlooking the famous rocky crowned by the statue of the Virgin and the Cloister, you can install your tents, motorhomes and caravans on large bare or stabilized sites, shaded or semi-shaded, with or without access to an electrical connection. Note that two sites are accessible to people with reduced mobility and a service area for motorhomes is present on the site.
To stay active during your stay, you will have a badminton and volleyball court and ping-pong tables. The greenway and various marked trails, accessible directly from the campsite, will be the ideal starting points for hiking in the heart of nature. For moments more focused on relaxation, you will have access to a collective room to watch quietly television.
For entertainment, the campsite offers introductory or advanced fishing sessions and outings to discover the area.
Finally, at the food level, you will have at your disposal a grocery store and a deposit of bread and pastries.
Good to know: the campsite takes the CampingCard ACSI and accepts the good VACAF!
From this quiet campsite located 400 meters from the historic center of the town, you can practice many activities such as tennis, climbing or water sports, indulge in the joys of hot air ballooning, paragliding or gliding and discover the architectural and natural heritage of this country of volcanoes!
Opening date : 01/04
Closing date : 29/10
Payment options: CB / Cheque / Virement / Chèque vacances
Number of pitches: 72
---
campsites nearest to Camping de Bouthezard
Camping d'Audinet
- Auvergne
Camping Comme au Soleil
Coubon
- Auvergne
Camping La Rochelambert
Saint-Geneys-près-Saint-Paulien
- Auvergne
Domaine du Pra de Mars
Vorey
- Auvergne
Camping Au Bord de l'Eau - Rock'n Camp
Goudet
- Auvergne