Camping de Nevers
Nevers
|
Nièvre
|
Burgundy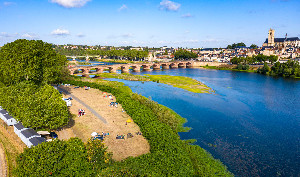 ---
---
Toeristische activiteiten Camping de Nevers
---
Description
Camping de Nevers
Nevers
|
Nièvre
|
Burgundy
Address of the campsite:
Rue de la Jonction, Nevers
---
Camping Nevers is located, as its name suggests, in the city of Nevers in Burgundy, which is the capital of Earthenware. This campsite takes the CampingCard
ACSI
. Nevers is located 240 km south of Paris, and is on the road to Saint Jacques de Compostela. Each year, many pilgrims come to visit the famous sanctuary of Saint Bernadette with its spacious and bright corridors, its park and its chapel and the reconstructed cave of Massabielle, where the Virgin Mary appeared to the young woman. The region offers the opportunity to experience whitewater sports with several options such as rafting, hydrospeed or canoe that await the holiday makers to make them live an unforgettable experience full of thrills. The Ducal Palace of Nevers is a magnificent construction in stone that will make visitors discover many remains of excavations as well as a slide show on the history of the city. Nature lovers will not fail to admire the Panorama of Bec d'Allier where the waters of the Loire and the alley marry. Sandbanks, alluvial forest and meadows will delight fans of flora and fauna. Wine lovers can also visit the vineyards of Burgundy and discover the Sancerre Blanc by tasting it around a good table or in a cellar. The activities around the campsite are not lacking either with direct access to the river that will delight fishing enthusiasts, as well as a volleyball and badminton court. A playground for children is present and allows the youngest to have fun as much as they wish in complete safety. The surroundings of the campsite are also full of activities that can be used by holidaymakers, including many hiking trails with marked trails, but also mini-golf and bowling, tree climbing, a water sports center and even a parachuting center! Camping Nevers is therefore the ideal place to spend family holidays with the guarantee of never getting bored.
Opening date : 07/03
Closing date : 06/11
Number of pitches: 73
---
campsites nearest to Camping de Nevers
Camping La Loire
Fourchambault
- Burgundy
Camping Prémery
Prémery
- Burgundy
Camping L'Etang du Merle
Saint-Saulge
- Burgundy
Camping Le Petit Robinson
Champvert
- Burgundy
Camping L'Etang du Merle
Crux-la-Ville
- Burgundy