Domaine de Fierbois
Capbreton
|
Landes
|
Aquitaine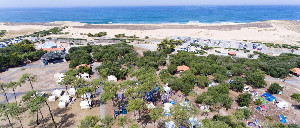 ---
---
Toeristische activiteiten Domaine de Fierbois
Top tourist activities
Aquitaine
|
Soorts-Hossegor
|
Distance to campsite: 5.6 Km
Category: Lac Public: En famille
Aquitaine
|
Soustons
|
Distance to campsite: 10.9 Km
Category: Etang Public: En famille
Aquitaine
|
Moliets-et-Maa
|
Distance to campsite: 24.6 Km
Category: Etang Public: En famille
The closest activities
 Plage des Océanides
Aquitaine
|
Capbreton
|
Distance to campsite: 1.4 Km
Category: Plage Public: Tout public
 Plage de la Piste
Aquitaine
|
Capbreton
|
Distance to campsite: 1.4 Km
Category: Plage Public: Tout public
 Plage de la Savane
Aquitaine
|
Capbreton
|
Distance to campsite: 1.8 Km
Category: Plage Public: Tout public
 Plage du Prévent
Aquitaine
|
Capbreton
|
Distance to campsite: 2.1 Km
Category: Plage Public: Tout public
 Plage Centrale
Aquitaine
|
Capbreton
|
Distance to campsite: 2.2 Km
Category: Plage Public: Tout public
 Plage Estacade
Aquitaine
|
Capbreton
|
Distance to campsite: 2.5 Km
Category: Plage Public: Tout public
 Plage Notre-Dame
Aquitaine
|
Capbreton
|
Distance to campsite: 2.9 Km
Category: Plage Public: Tout public
 Plage du Parc
Aquitaine
|
Hossegor
|
Distance to campsite: 3.2 Km
Category: Plage Public: Tout public
 Plage Centrale
Aquitaine
|
Hossegor
|
Distance to campsite: 3.3 Km
Category: Plage Public: Tout public
 Plage du Chênes-Lièges - Lac d'Hossegor
Aquitaine
|
Hossegor
|
Distance to campsite: 3.6 Km
Category: Plage Public: Tout public
---
Description
Domaine de Fierbois
Capbreton
|
Landes
|
Aquitaine
Address of the campsite:
Rue des Alouettes
---
The campsite Campéole Domaine de Fierbois is located in Capbreton, a must for surfers, in the Landes in the region of Aquitaine, close to the beach and the city center and the gateway to the Landes forest.
In this campsite located on the edge of the water ideally located, you can stay in bungalows canvas for 4 to 6 people, some of which are accessible to people with reduced mobility. The 6 person canvas bungalow consists of 2 contiguous and independent habitats. These accommodations include 2 bedrooms, a kitchen area including hotplates and fridge and a garden furniture but do not have sanitary or heating. You can also sit with your tents and caravans on shady pitches or stabilized sites for your motorhome, with or without access to electricity.
With family or friends, you can enjoy at leisure the heated swimming pool with paddling pool, children's playground, library, surf school and many courses where you can practice tennis, basketball, beach and many other sports!
You will be offered varied entertainment for all ages such as shows and movie nights and the youngest will be entertained in the kids 'and teens' clubs.
In the shade of pine trees, you will have enough to soothe your little thirsts and cravings at the restaurant and snack bar or via the hot spot that will enhance your breakfasts.
Near the campsite, many other activities are accessible such as tree climbing, golf, canyoning or horse riding. Fans of water sports will be able to invest the numerous supervised beaches and the amateurs of bicycle excursions will be able to skirt the southern coast of Landes on a track of 40km.
From the campsite, stroll in Capbreton, in the heart of the marina or in the fish market, visit the Courant d'Huchet nature reserve and if you feel like it, do not miss to attend one of the typical courses of landaise cows!
Opening date : 03/05
Closing date : 13/10
Payment options: CB / Cheque / Virement / Chèque vacances
Number of pitches: 386
---
campsites nearest to Domaine de Fierbois
Camping la Civelle
Capbreton
- Aquitaine
Camping l'Océanic
Labenne
- Aquitaine