Camping L'Ardéchois
Vallon-Pont-d'Arc
|
Ardèche
|
Rhone-Alpes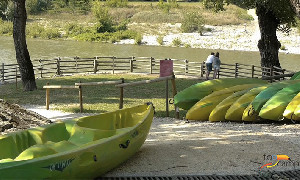 ---
Camping L'Ardéchois is not available on our site. Compare prices of rentals around the campsite
Our partners do not provide stay on this site. results list (not exhaustive) for1 merchants referenced for a fee surrounding campsites.
Filtered
1
Campings -
2 span> rentals close to L'Ardéchois
Sort by :
Price
Popularity
---
Notice holidaymakers
1 review of the camping
>Post an opinion
Average grade :

Value for money:

Accommodation:

Facilities:
Services :

Entertainment:
1 person found the relevant notice
zeboss4
" a luxury campsite "
Review written the Game. 24 January 2013
Camping L'Ardéchois is located in Vallon Pont d Arc, 10 minutes walk from the city center, and bordering the Ardèche and therefore a private beach. Our accommodation was perfect, with all the necessary amenities and comfort. We enjoyed the home and fun facilities. The pool and activities were up to our expectations!
---
Toeristische activiteiten Camping L'Ardéchois
Top tourist activities
Gelderland
|
Distance to campsite: 1 Km
Category: Public:
Languedoc-Roussillon
|
Distance to campsite: 24.8 Km
Category: Rivière Public: En famille
Languedoc-Roussillon
|
Distance to campsite: 33 Km
Category: Rivière Public: En famille
---
Description
Camping L'Ardéchois
Vallon-Pont-d'Arc
|
Ardèche
|
Rhone-Alpes
Address of the campsite:
Route des Gorges
---
If you want to spend a stay in a high-end campsite on the edge of the Ardèche, take a look at the campsite L'Ardéchois 5 * Vallon Pont d'Arc. This luxury campsite is located on the banks of the Ardèche River, offering you privileged access to its bathing beach and water activities such as canoeing. You will be at the doors of the Gorges descent.

In your 5-star campsite L'Ardéchois you will have only a few steps to jump from the pool to the river. There is a heated water park with 2 swimming pools, a hot tub and a paddling pool for children. Around the basins a solarium terrace offers its deckchairs and parasols.

Camping standing and family, L'Ardéchois offers accommodation in mobile homes with optimal comfort. You choose your mobile home from 2 to 5 seats, 35 square meters with air conditioning. The accommodations all include a closed and covered terrace with garden furniture.
For those who prefer their tent or their caravan, 244 pitches await you on the shaded and flat park of the campsite. You will find electric terminals and draining areas for your motorhome.

To serve you better, the campsite 5 * L'Ardéchois offers multilingual entertainment for the whole family. You will also enjoy the multi-sport and petanque fields, the tennis court and can rent canoes and bicycles. A massage professional welcomes you every week and you can discover the NIA, a physical activity to unite and rejoice body and soul: "Now I Am! ".
Fishermen can bring their fishing rod and indulge in their favorite activity on the river.

In your high-end campsite L'Ardéchois you can eat at the bar restaurant and shop at the mini market.

Opening date : 07/04
Closing date : 30/09
Payment options: CB / Virement
Number of pitches: 269
---
campsites nearest to Camping L'Ardéchois
Camping Le Vieux Vallon
Vallon-Pont-d'Arc
- Rhone-Alpes
Camping Rives d'Arc
Vallon-Pont-d'Arc
- Rhone-Alpes
Camping La Roubine
Vallon-Pont-d'Arc
- Rhone-Alpes
Camping de l'Ardèche
Salavas
- Rhone-Alpes
Camping Le Chauvieux
Salavas
- Rhone-Alpes