Camping La Gères
Surgères
|
Poitou-Charentes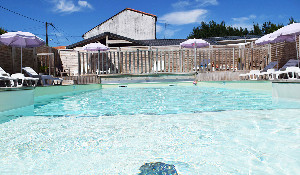 ---
---
Toeristische activiteiten Camping La Gères
Top tourist activities
Poitou-Charentes
|
L'île-d'Aix
|
Distance to campsite: 33.7 Km
Category: Ile Public: En famille
The closest activities
 Plage des Boucholeurs
Poitou-Charentes
|
Châtelaillon-Plage
|
Distance to campsite: 26.6 Km
Category: Plage Public: Tout public
 Plage centrale
Poitou-Charentes
|
Châtelaillon-Plage
|
Distance to campsite: 26.7 Km
Category: Plage Public: Tout public
 Plage Saint-Jean des Sables
Poitou-Charentes
|
Châtelaillon-Plage
|
Distance to campsite: 27 Km
Category: Plage Public: Tout public
 Plage du Loiron
Poitou-Charentes
|
Distance to campsite: 28.7 Km
Category: Plage Public: Tout public
 Plage d'Aytré
Poitou-Charentes
|
Distance to campsite: 29 Km
Category: Plage Public: Tout public
 Plage Nord
Poitou-Charentes
|
Fouras
|
Distance to campsite: 29 Km
Category: Plage Public: Tout public
 Plage de l'Espérance
Poitou-Charentes
|
Fouras
|
Distance to campsite: 29.1 Km
Category: Plage Public: Tout public
 Plage Sud
Poitou-Charentes
|
Fouras
|
Distance to campsite: 29.4 Km
Category: Plage Public: Tout public
 Grande plage
Poitou-Charentes
|
Fouras
|
Distance to campsite: 29.6 Km
Category: Plage Public: Tout public
 Plage de la Platerre
Poitou-Charentes
|
Distance to campsite: 29.6 Km
Category: Plage Public: Tout public
---
Description
Camping La Gères
Address of the campsite:
10 Rue de la Gérés
---
Camping La Gères is located at the gateway to La Rochelle in Charente-Maritime and welcomes its holidaymakers in a green setting. The activities and places to visit will be sure to those who decide to spend their holidays at Camping La Gères.
Vacationers can spend pleasant moments of swimming thanks to the heated swimming pool put at their disposal. The latter is at a constant temperature of 26 ° and has a wooden terrace where deckchairs are installed which invite those who want to relax to lie down and relax under the sun of La Rochelle. Sports activities are offered several times a week such as yoga, zumba and muscle building. Children will enjoy the paddling pool reserved for them. Children from 3 to 10 years old will be delighted to have fun in the play area consisting of a structure with toboggan, spring games and even a trampoline. A ping-pong corner and a table football are also present.
For the adults, animations are proposed in order to spend a convivial stay. Petanque competitions are held with the participation of the local club. To relax in music, holidaymakers will be able to participate in the aperitif quiz. The children will be busy doing many activities such as treasure hunts, DIY workshops, make-up workshops, outdoor games and kermesses. They can also play water games in the pool filled with buoys of all kinds, balloons and water guns. Once a week, a qualified instructor is responsible for proposing an introduction to the pony in the campground. The team of the campsite also ensures its holidaymakers spend evenings worthy of the name with concerts and shows, blind-tests, and lotto. Everyone can party during dance evenings and night pool sessions with musical background.
The campsite La Gères allows to spend a stay on a site or to rent a mobile home, a bungalow, a chalet, a tent lodge or a tipi for a change of scenery.
Opening date : 18/01
Closing date : 09/12
Payment options: CB / Virement / Chèque vacances
Number of pitches: 52
---
campsites nearest to Camping La Gères
Camping La Taillée
Aigrefeuille-d'Aunis
- Poitou-Charentes
Camping Village Vacances Les Peupliers
Tonnay-Boutonne
- Poitou-Charentes
Camping La Mouette Rieuse
Courçon
- Poitou-Charentes
Camping La Cabane des Frênes
Yves
- Poitou-Charentes