Camping Le Verger Fleuri
Lathuile
|
Haute Savoie
|
Rhone-Alpes
Best price :

366

the 06/27 to 07/04
>See offer
Caravan : 4 pers.
du 06/27 au 07/04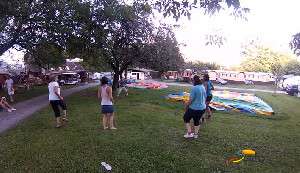 ---
result list (not exhaustive) 1 merchants referenced for a fee. Results sorted by popularity (the best click through rate).
Filtered
1
Campings -
3 span> rentals atLe Verger Fleuri
Sort by :
Price
Popularity
---
Notice holidaymakers
9 reviews of the camping
>Post an opinion
Average grade :

Value for money:

Accommodation:

Facilities:
Services :

Entertainment:
jmarc
" very good "
Review written the Sat. 07 May 2016
for the first time in this campsite, we found an excellent welcome and a trailer very well equipped. Sanitary very clean. the surroundings are superb. Lake Annecy, the mountains, what more ???? happiness !!!!!
christinamera
" very good campsite "
Review written the Sat. 29 August 2015
than a nice holiday in a cocosweet. new concept very well studied for a family of 4 people. nice and welcoming campsite. animations and restaurant at the top
bernard andorre
" Camping "
Review written the Sat. 08 August 2015
Great vacation in this beautiful area. The large campsites do not reach the height of this family campsite and very welcoming.This is really what we were looking for when coming to the orchard.Flatness, kindness and good entertainment.The cuisine is excellent.The best value for money that we found.
nbeautynails
Review written the Fri. 31 July 2015 from App mobile Toocamp
great evening mussels fries
Martine
" Joli camping "
Review written the Sea. 17 June 2015
Le Camping Le Verger Fleuri est situé à Lathuile, un petit village très charmant, et près du lac d Annecy Notre mobile home était très propre et fonctionnel avec une terrasse, salon de jardin, chaises longues L'accueil sur le camping était parfait. Nous avons eu tous les renseignements souhaités et le personnel est vraiment sympa Les animations étaient bien organisées. Nous avons fait le concours de pétanque, le loto, la randonnée avec le patron et la soirée repas karaoké. Que du bonheur
>Read all reviews
imartine carrez
" Nice campsite "
Review written the Sea. 17 June 2015
Camping Le Verger Fleuri is located in Lathuile, a small village very charming, and near Lake Annecy Our mobile home was very clean and functional with a terrace, garden furniture, sun loungers The welcome on the campsite was perfect. We had all the information we needed and the staff was really nice The entertainment was well organized. We did the petanque contest, the lotto, the hike with the boss and the evening karaoke meal. What happiness
Mylene
" A campsite on a human scale "
Review written the Sun. 07 June 2015
Camping Le Verger Fleuri is located near Lake Annecy ... Our mobile home was great, well arranged and especially very clean The home is perfect and very friendly The animations were well organized Camping to advise without any problem
pioranne
Review written the Fri. 04 July 2014 from App mobile Toocamp
1 person found the relevant notice
sofy
" very good vacation "
Review written the Mon. 11 February 2013
welcome nice rental mobilhome very clean we had a great holiday and book for next year with friends. the snack is very good the superb animations. we went hiking with the boss and a pétanque contest
---
Toeristische activiteiten Camping Le Verger Fleuri
Top tourist activities
Rhone-Alpes
|
Annecy
|
Distance to campsite: 9.1 Km
Category: Lac Public: En famille
Rhone-Alpes
|
Distance to campsite: 29.3 Km
Category: Lac Public: En famille
---
Description
Camping Le Verger Fleuri
Lathuile
|
Haute Savoie
|
Rhone-Alpes
Address of the campsite:
70 route du bout du lac 74210 Lathuile
---
In Auvergne-Rhône-Alpes, in the department of Haute-Savoie, the 2-star campsite Le Verger Fleuri welcomes you in Lathuile, near the famous Lake Annecy, in the heart of the Bauges Natural Park Regional Park, on its green plot of 1.5 hectares enjoying a superb panorama of the surrounding mountains and located 10 minutes walk from a beach.
In this campsite located between lake and mountains, you will have the choice between various accommodations with or without toilets, all equipped for your greatest comfort: a mobile home for 6 tenants, a Coco Sweet of 2 or 4 places, a chalet, a trailer or a Tithome that can accommodate up to 4 people. In addition, shaded or sunny pitches, with or without electricity, will be able to receive your tent, camper or caravan.
In order to spend pleasant moments on the spot, you will have at your disposal many play equipment for the youngest ones, a petanque ground, table-tennis, board games and table football, TV and fitness areas as well a participatory library. Moreover, in July and August, you will be able to take part in various convivial animations like for example treasure hunts, lotto meetings, dances or group meals in music.
You will also find a bread and a la carte restaurant, accessible during the two months of high season.
Good to know: Free WIFI!
From this family campsite to the warm welcome, practice at leisure around hiking and cycling, paragliding, canyoning and fishing, discover the local flora and fauna via the Nature Reserve at the end of the lake (3km) and do not forget not spend a day in the beautiful city of Annecy, nicknamed the Venice of the Alps (15km)!
Opening date : 09/04
Closing date : 30/09
Payment options: CB / Cheque / Virement / Chèque vacances
Number of pitches: 100
Best price :

366

the 06/27 to 07/04
>See offer
---
campsites nearest to Camping Le Verger Fleuri
Camping La Nublière
Doussard
- Rhone-Alpes
Camping Le Simon de Verthier
Doussard
- Rhone-Alpes